ATTENTION ROADWORKS
Please pay attention while driving to Luhmühlen as the main through-road Gödenstorf might be affected by roadworks. Please follow the signs if there are alternative routes.
TOP 5 CCI4*-S Meßmer Trophy mit Deutscher Meisterschaft
News from Luhmühlen
Gold for Julia Krajewski
Gold for Julia Krajewski
With Ero de Cantraie Julia Krajewski (GER) stayed clear in the show-jumping phase, thus winning the CCI4*-S Meßmer Trophy (30.6) and the German Championship. Christoph Wahler (GER) was runner-up with D'Accord (34.4). Third place went to Julia Krajewski and her second horse Nickel (36.3). Anna Lena Schaaf (GER) and Fairytale (37.8) won the bronze medal.
Olympic gold medalist Julia Krajewski crowned her successful weekend with the four-star win. In the prize-giving ceremony she thanked the audience for the great atmosphere: "All of you make the victory so special. Ero really seems to like the atmosphere here. Huge praise to the organisers - the conditions here are absolutely perfect. Luhmühlen is our favourite event - everyone is so incredibly friendly and professional at the same time and the horses feel really comfortable here."
Before their jumping round, the German Champion was still in the lead with Nickel, but they had two unfortunate rails, finishing third. She had already competed her ultimately winning horse in the first half of the show-jumping and had thus secured her victory early on: "It was somehow surreal, to know that I'd won the title so early on. I could only have beat myself to it. All in all, I am overjoyed with the way the week went and incredibly proud of my young horses. I really didn't expect to be on the podium with both horses at the end of the week. Ero's development in the last 12 months is absolutely amazing and Nickel was a bit unlucky today. He too would have deserved the win today."
Christoph Wahler had worked his way up the ranks: "The week didn't start out so well But he's so great in the cross-country phase, a naturally quick horse with a huge gallop. Every round I ride him he gets a little bit more comfortable with going faster so we were able to move up a couple of ranks. The clear round today put us right up there."
Anna Lena Schaaf was very emotional after the end of the competition and was at a loss for words: "This horse just leaves me speechless. She means so much to me. The show-jumping was very challenging today and I'm so glad that we stayed clear."
Julia Krajewski explained Anna Lena Schaaf's emotion with the strong bond between horse and rider: "In my opinion, the bond between a horse and its rider can be even stronger than interpersonal relationships. We do everything for our horses - it is incredibly touching when they trust us and go above and beyond."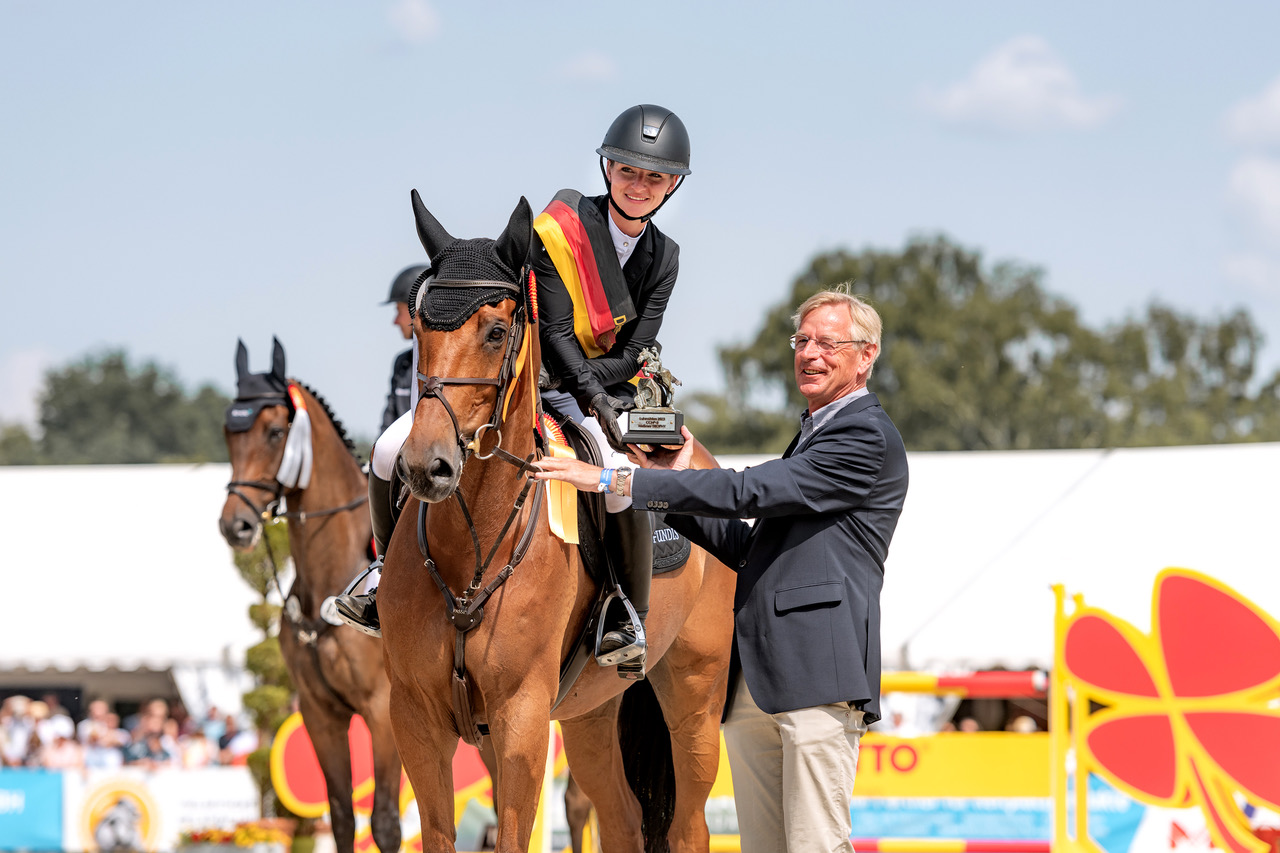 Laura Collett (GBR) und London 52 win the Longines CCI5*-L
Laura Collett (GBR) und London 52 win the Longines CCI5*-L
With immaculate cross-country and show jumping rounds Laura Collett and London 52 held onto their dressage score of 20.3. Kitty King (GBR/27.2) and Yasmin Ingham (GBR/27,9) completed the British podium
With an outstanding performance in the final phase, Laura Collett and London 52 added yet another victory to their exceptional career.
"London is a sensational horse, a horse of a lifetime and I'm so lucky to get to ride him! He knows when it matters. He went like a dream in the dressage was so brave in the cross-country and today he showed off to the German fans. When the distance isn't perfect he just jumps higher. Our partnership is the key, it's all down to trust and a special bond - and I am so proud of him."
A rail would have been costly for Kitty King but Vendredi Biats jumped like a dream and with a beautiful round they held onto second place. "I didn't feel any pressure today. It's been the perfect week so far and I would have been happy with any outcome. He felt great in the warm-up and I really enjoyed our show jumping today. He had a blast yesterday and absolutely loves jumping. I couldn't be prouder of him!"
Reigning World Champion Yasmin Ingham also showed everyone how it's done, producing a fantastic clear with Rehy DJ: "I have a lot of trust in piglet. He's such a super horse and I'm so happy to ride him. We call him piglet, because he's always to happy. We share a special bond, I have had him for a long time now, I got him when he was six and we grew up together – from the Young Rider European Championships to 5-star level."
Eventing High Performance Coach Chris Bartle was full of praise for "his" girls: "Of course they have super horses, as they keep pointing out but these girls are just brilliant, they build them up so well and have developed the special partnership between horse and rider. And this partnership is key!"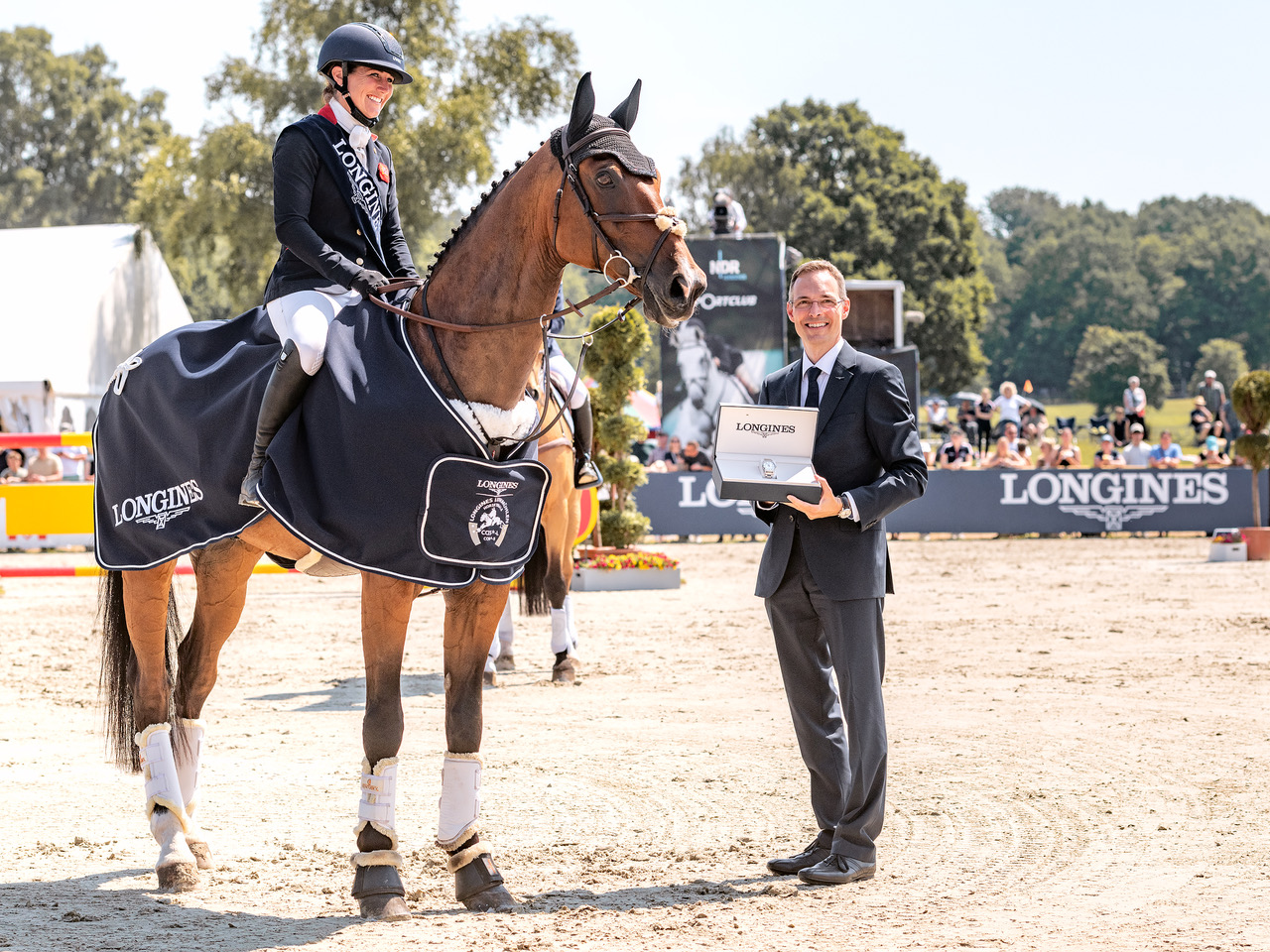 Double lead for Julia Krajewski in the CCI4*-S Meßmer Trophy
Double lead for Julia Krajewski in the CCI4*-S Meßmer Trophy
What a day for Julia Krajwski (GER)! She's currently holding on to the top two positions before the show-jumping phase. Nickel is in the lead (27.5), closely followed by Ero de Cantraie (30.2). Calvin Böckmann (GER) is in third place with Phantom of the Opera (31.8).
After two outstanding cross-country rounds, Julia Krajewski and her two horses are at the top of the field and thus also on gold course in the German Championships. "I really didn't expect that. Both horses are still quite inexperienced at this level. Perhaps Iunderestimated Nickel a little when I first started to ride him, because he's not really a flashy horse. But he keeps getting better and better. Today he tackled all the tasks like a pro – even the hedges in the arena. He always wants to do everything right and has gained so much confidence and that makes me incredibly happy."
The Olympic champion was also full of praise for Ero, who is currently holding the runner-up position: "We have worked a lot on his self-confidence and on his trust in me. This year he was ready for four-star level and I think he is really a special horse. It's a great feeling to train young horses to this level and by now he absolutely knows what it's all about. I took it easy for the first two minutes because he is relatively inexperienced. But then he was doing so well that I was able to increase the speed and ride into time."
For Calvin Böckmann it's only the second season with Phanom of the Opera. The 22-year old rider was over the moon after his horse's cross-country round: "Phanti was amazing, we had so much fun. Everything went according to plan and he was incredibly motivated. Last year I was still here as a spectator and dreamed of competing in the German Championships this year. Of course, my expectations were rather low, so it really is a dream that I am sitting here now. I have been riding him since the beginning of last year and took it easy at first to build up his confidence. By now I feel like I know him inside out and we've become a great team."
Event Director Julia Otto was delighted with everyone's team effort: "I would like to thank my huge team. The first ones arrived here at half past five this morning with big smiles and everyone just knows what to do. It makes me incredibly proud how we have grown together as a team over the years. Thank you to everyone and congratulations to the riders on their great rides. We saw some amazing horses, it was a brilliant day!"
How to watch
NDR live: Sunday, 18 June 14.00 - 15.15
Horse & Country+ are live streaming both competitions with German and English commentary https://horseandcountry.tv
Laura Collett and London 52 in the lead before show-jumping
Laura Collett and London 52 in the lead before show-jumping
With and outstanding cross-country round, Laura Collet (GBR) and London 52 kept their score (20.3) and held onto their lead in the Longines CCI5*-L. Kitty King (GBR) and Vendredi Biats (26.8) are currently in the runner-up position, closely followed by Yasmin Ingham (GBR) with Rehy DJ (27.5).
Twelve competitors managed to steer round Mike Etherington-Smith's influential cross-country course clear within the time.
The podium positions are still held by British riders. Laura Collett and London 52 were an absolute joy to watch and the rider was overjoyed after her round: "That horse is absolutely sensational! I'm so lucky to ride him. He's a dream to ride in the dressage arena and today he goes around the course like a demon. He's just phenomenal He's so tall and has got a massive stride but he rides like a pony because he's so adjustable. A lot of us slightly underestimated parts of the course. You had to be on you're A game at every single fence. The main thing now is to keep him happy and rested. Obviously, Kitty's horse is an amazing jumper and tomorrow's another day. Hopefully he comes out and jumps like I know he can to add another five-star title to his résumé but he owes me nothing. He's done so much for my career and I'm just super proud of how he went today."
Kitty King was also full of praise for her horse after a brilliant cross-country round: "We built our rhythm and our speed. It went by so quickly and he he was foot-perfect and super straight everywhere. It is such a relief how well he went here. I was starting to doubt myself but I know that he's a five-star horse." Yasmin Ingham's round was like a cross-country masterclass: "I couldn't be happier with piglet. He was absolutely incredible and helped me out a few times. He dug deep and moved up on all his minutes. I knew the first water was going to be a bit long because he tends to just pop in but I just shook the reins and he understood and he just took off and was a total pro. I'm very proud of him."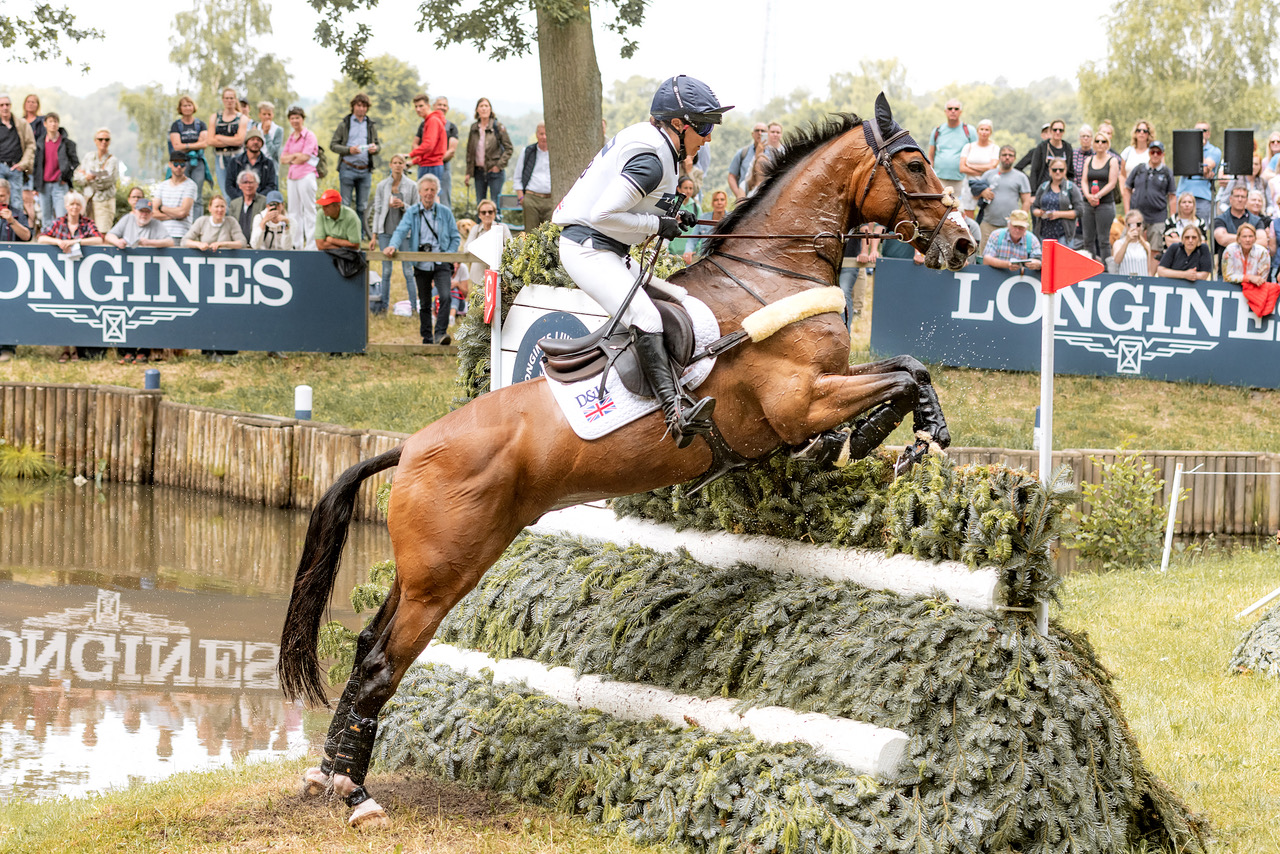 Fit to Compete
Fit to Compete
Today, the Longines CCI5*-L competitors presented their energetic and wonderfully turned-out horses to the Ground Jury and FEI Veterinary Delegate Dr. Matthias Baumann. Forty horses were accepted. Three horses were sent to the holding box. Oliver Townend's (GBR) Tregilder and Florian Ganneval's (FRA) Blue Bird de Beaufour were accepted after their second trot. Nico Aldinger (GER) decided against presenting Timmo again. Tomorrow's dressage day will start at 9.30 a.m. with the CCI4*-S Meßmer Trophy / German Championship. The Longines CCI5*-L dressage test begins at 1:45 p.m. with Oliver Townend (GBR) and 9-year-old Cooley Rosalent. How to watch NDR live: Saturday, 17 June 14.30 - 16.00 and Sunday, 18 June 14.00 - 15.15 Horse & Country+ are live streaming both competitions with German and English commentary https://horseandcountry.tv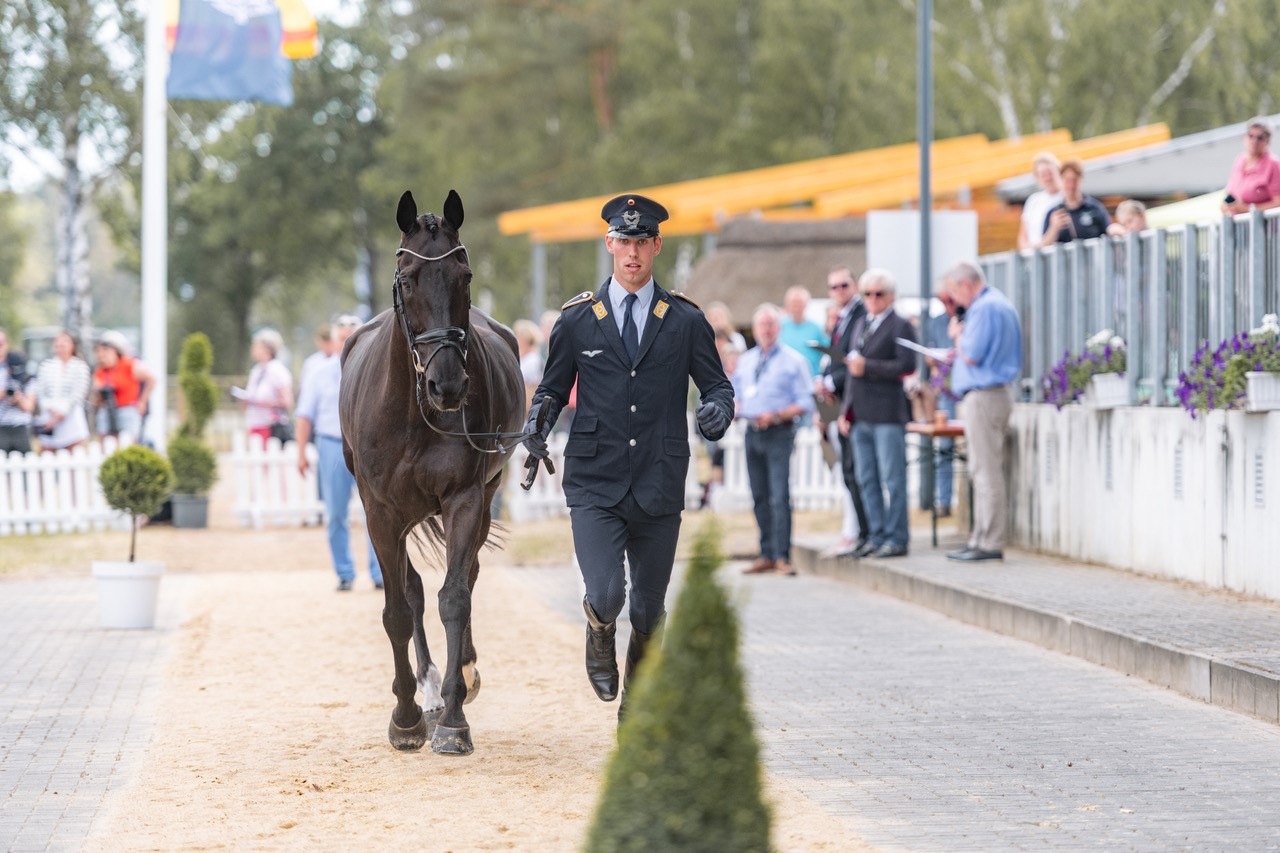 New Luhmühlen-Collection
New Luhmühlen-Collection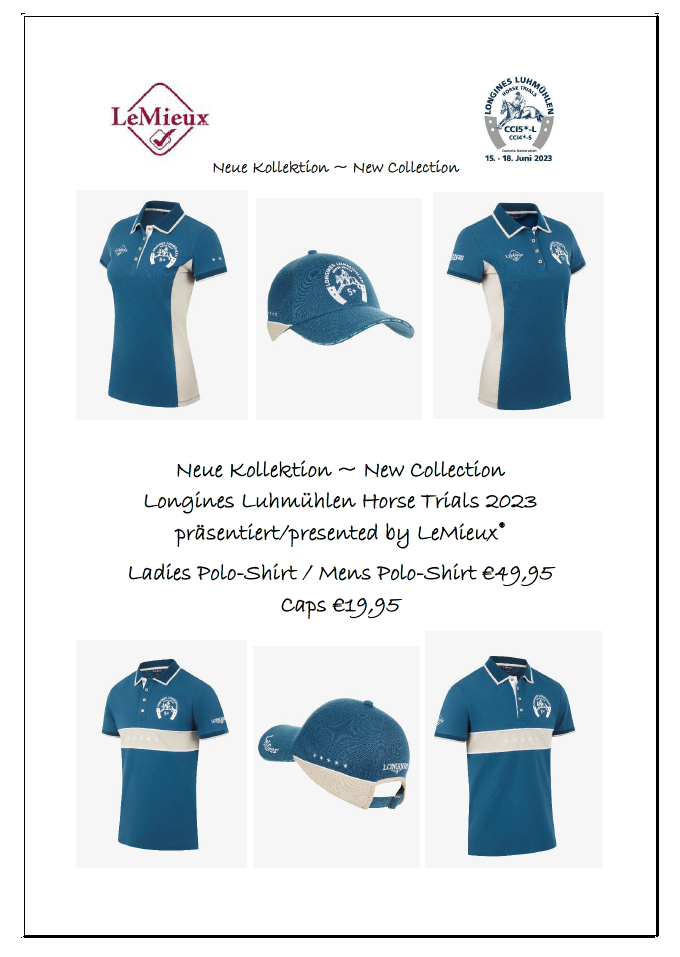 Startinglists and Results